There's nothing quite like the festively aromatic joy of a fresh-cut Christmas Tree. Dressed up, it's an iconic visual in your home with an equally powerful scent that's sure to conjure memories of past holidays.
But it's not all milk and cookies when it comes to a bringing home a "real" tree. Pinetree sap is known to cause gooey problems.
Sap is a sticky substance that spreads nutrients in plants similar to the way blood flows in mammals. Pinetree sap, in particular, is handy and can be used to create glues and candles — and even treat wounds with anti-bacterial and anti-inflammatory properties and the stickiness needed to seal wounds. However, it doesn't look good pooled on your hardwood floor.
Pinetree sap often falls from Christmas trees and becomes very hard to remove due to its stickiness. If that happens, hopefully Santa put a little Goo Gone Adhesive Remover under your tree. Goo Gone can remove sap from carpets and sealed floors, saving you a ton of time compared to other DYI cleaning methods. We recommend using Goo Gone Original or Goo Gone Adhesive Remover Spray Gel, the latter designed to cling to stains and vertical surfaces. Here's how to use it against sap:
· For hard surfaces: Apply Goo Gone directly to surface. Wipe away. Wash with hot, soapy water.
· For carpets: Apply Goo Gone to cloth. Blot stain. Wash with hot, soapy water.
That's it. A big mess might require a few iterations, but it's nothing Goo Gone can't solve.
Waxy Hannukah Menorah
A lit Hannukah menorah looks great in a window, but it can be difficult to keep clean due to the waxy aftermath of some well-lit candles. Fortunately, Goo Gone can remove candle wax from just about any surface. For menorahs and hard surfaces, we recommend scraping off as much wax as possible without touching the surface. Once that's done, apply Goo Gone, wipe away and wash with hot, soapy water.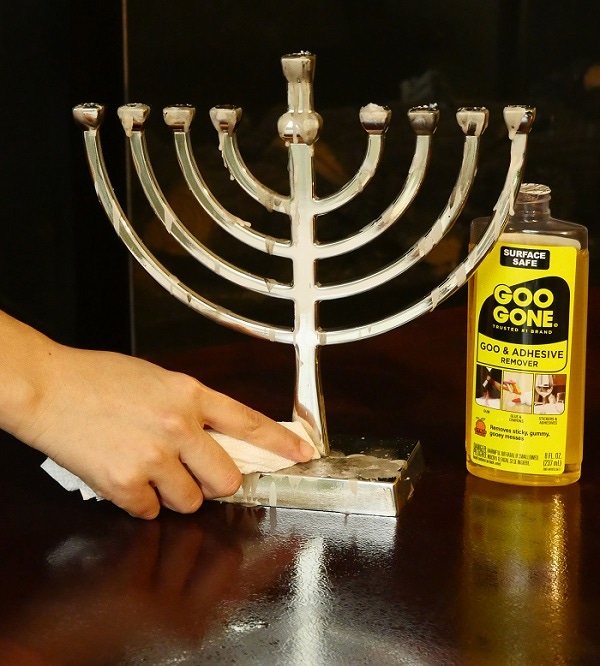 Sticker Residue on Presents
Do some of your freshly opened presents have stickers that need to be removed? From glass to plastic, Goo Gone easily takes off sticker residue, leaving your gear looking pristine.
Holiday Arts & Crafts
Did you hang up holiday decorations with some tape or sticky tack? Maybe your kids went a little overboard with glue on their holiday Christmas cards. Whatever the sticky crafts issue, Goo Gone has your back. Goo Gone removes glue, markers, crayons, stickers, tape residue and more.